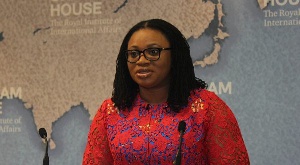 The Chairperson of the Electoral Commission (EC), Charlotte Osei, has reportedly asked for more time to enable her to file her witness' statement before the Committee set up by the Chief Justice to investigate her alongside her two deputies for abuse of office and conflict of interest.
According to sources, the time given by the five-member committee chaired by Justice A.A. Benin of the Supreme Court to both the petitioners and the respondents to file their documents had elapsed.

Sources said Mrs. Osei was to submit her statement on January 23, 2018, but upon receipt of a letter indicating that a prima facie case had been established for the investigation to go on, she needed to amend parts of her witness' statement to ensure that she was able to respond to the issues appropriately and in proper context; and therefore, requested for more time per a letter written on January 24, 2018.

She was said to have finally submitted it on Thursday, February 1, 2018 – a week after the initial date.

It is unclear if the two other deputy commissioners – Amadu Sulley (in-charge of Operations) and Mrs. Georgina Opoku-Amankwa (in-charge of Corporate Services) had filed their statements; but the petitioners have reportedly filed theirs.

Daily Guide learnt that the petitioners were given up to sometime mid-January to file their statements and the respondents were given up to January 23 to do so.
The sources said the committee is expected to use about a week after the filing of the witness' statements to do its preliminary assessment before official commencement of the hearing.


Official Announcement
On December 19, last year, Chief Justice Sophia A.B. Akuffo officially confirmed that she had set up a committee to investigate allegations brought against the top EC officials.
A statement by Judicial Secretary Justice Alex B. Poku-Acheampong had indicated that proceedings of the five-member committee were going to be held in camera.
"The public is hereby informed that Her Ladyship the Chief Justice, Justice Sophia A.B. Akuffo, in accordance with Article 46 of the 1992 Constitution, has set up a five-member committee to investigate allegations brought against the chairperson of the Electoral Commission, Mrs Charlotte Osei, and her two deputies, Mr. Amadu Sulley and Mrs. Georgina Opoku-Amankwa," the statement posited.

"The committee, which will sit in camera, in line with normal practice, consists of three Justices of the Superior Court appointed by the Judicial Council and two other persons appointed by the Chief Justice, on the advice of the Council of State. The committee is chaired by a Justice of the Supreme Court."

According to the statement, "The committee was established after the Chief Justice determined that there was a prima facie case against the three officials of the Electoral Commission."

The statement added, "It is the expectation of the Chief Justice and the Judicial Council that the public will treat the committee with respect and dignity it deserves as it carries out its constitutional duty and refrain from making any comments that will undermine the work of the committee, since infractions may amount to contempt."