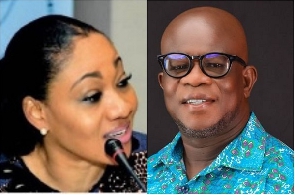 A leading member of the National Democratic Congress (NDC) and lecturer at the University of Ghana, Prof. Michael Kpessa-Whyte, has accused the Electoral Commission of Ghana (EC) of endangering Ghana's democracy.
In a post shared on X (formerly known as Twitter) on Monday, September 18, 2023, Prof. Kpessa-Whyte said that the EC is suppressing the vote of Ghanaians with its actions in the ongoing limited voter registration exercise.

This, he said, is a violation of the 1992 Constitution of Ghana and a danger to the democratic governance the country has enjoined for over 30 years.

"Ghana's Electoral Commission is weaponising voter registration to achieve voter suppression. The right to vote is fundamental to citizenship, and voting itself is fundamental to the preservation of other rights.

"Partisan human agency in the EC is a danger to our democracy," the post he shared reads.

Background:

The Electoral Commission of Ghana commenced a limited registration exercise for eligible Ghanaians who turned 18 years old after the 2020 registration exercise and other eligible voters who could not register on Tuesday, September 12, 2023.
However, five opposition political parties jointly filed an injunction to halt the ongoing limited voters' registration exercise.

The five political parties that filed the injunction are the National Democratic Congress (NDC), Progressive People's Party (PPP), Convention People's Party (CPP), People's National Convention (PNC), and All People's Congress (APC).

They describe the exercise by the Electoral Commission as an unlawful and unreasonable decision to restrict centres for the upcoming Limited Voter Registration exercise to their District Offices.

According to them, the EC's decision to restrict the centres of voter registration to their district offices has the potential to deprive many eligible voters of their right to be registered as voters and to vote in public elections.

The court has set October 17, 2023, to hear the applications, by which date the registration process would be over.

BAI/SEA
Ghana's leading digital news platform, GhanaWeb, in conjunction with the Korle-Bu Teaching Hospital, is embarking on an aggressive campaign which is geared towards ensuring that parliament passes comprehensive legislation to guide organ harvesting, organ donation, and organ transplantation in the country.

Watch the launch of the 2023 GhanaWeb Excellence Awards on GhanaWeb TV below:



Click here to start the nomination process for the 2023 GhanaWeb Excellence Awards