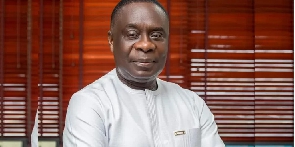 The National Democratic Congress (NDC) in the Central Region has said the Electoral Commission of Ghana (EC) must be called to answer questions in the law court if James Gyakye Quayson issue is seen as criminal.
Speaking on Starr Today with Joshua Kodjo Mensah on Tuesday, the NDC Central Regional Chairman, Professor Richard Kofi Asiedu stated that Mr. Gyakye Quayson's situation can be described as "pure political witch-hunting."

"Before you file to contest for an election the EC will check your document to see whether you qualify or not. I was part of the team the EC called to the regional office in Cape Coast to find whether James Gyakye Quayson was qualified to contest.

"The EC Director by then told us that 'oh you have started the process a long time ago before the COVID. You are qualified.' So we are worried as a party that why has the EC been left behind. The EC should be involved in this. If it is criminal as they seem to portray then EC should also be involved. Because they gave the green light for Gyakye Quayson to contest," Prof. Kofi Asiedu stated.

He continued: "Gyakye Quayson when he filed there was no election by then, before the election took place Gyakye Quayson had renounced his citizenship to Canada. It was done before the elections were held. That thing was done before he was sworn in Parliament as an MP."
The NDC Central Regional Chairman further stated that they believe the Gyakye Quayson will come out victorious adding that "so the NDC's surest best for this upcoming election is Gyakye Quayson."

Meanwhile, the Clerk to Parliament, Cyril Kwabena Oteng Nsiah has written to the Electoral Commission (EC) of the occurrence of a vacancy in the Assin North Constituency.

"I, Cyril Kwabena Oteng Nsiah, Clerk to Parliament do hereby formally notify you of the occurrence of a vacancy in the Assin North Constituency necessitated by the Judgement of the Supreme Court dated 17th May, 2023," he wrote in a letter to the Electoral Commission of Ghana (EC).