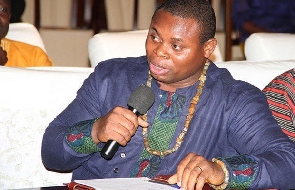 Founding President of Think Tank Imani Africa, Franklin Cudjoe, has lauded former Electoral Commission (EC) boss, Dr Afari Gyan, and Assin Central Member of Parliament (MP) Kennedy Agyapong for kicking against the EC's Constitutional Instrument (CI) by which the electioneering body seeks to make the Ghana Card the sole identification document for registration of voters.
According to the EC, if the C.I is passed; it will allow them to do continuous voters registration at their district offices.

In a statement made exclusively to the Daily Graphic, the former EC Chair, questioned why the electioneering body wants to phase out the guarantor system while the National Identification Authority (NIA) actually has that as an option for applicants registering for the Ghana Card.

"What prevents the commission from instituting, in the upcoming constitutional instrument (CI), a guarantor regime as robust as or even more robust than the one being used by the NIA for doing the Ghana Card?" the former EC boss quizzed.

The Assin Central MP, who has also declared his intention to contest the governing New Patriotic Party's (NPP) flagbearship, while speaking on Kumasi-based Sompa FM, described the EC's decision as "bogus."
"I am against it. Ghana has people taking bogus decisions.

"We have a whole Ghana passport, but you (EC) claim that to register to vote you can't use it to register as a voter. What makes me know that I am a Ghanaian? It is my passport," the Assin Central MP stated.

Reacting to the stance taken by the former EC boss and the Assin Central MP, the Imani Founding President, indicated his outfit's support of their decision to kick against the C.I by the electioneering body.

"Yet another sensible patriot, Dr Afari Gyan, the emeritus Chair of Ghana's Electoral Commission, rejects the EC's decision to ditch the guarantor system. IMANI supports this action as well as that of Kennedy Agyapong," the Imani President tweeted on Tuesday, 14 March 2023.