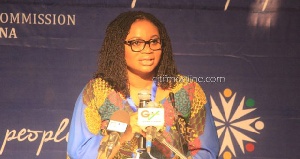 Before a two-thirds majority in parliament will agree to a change in Ghana's voting date from December 7, parliament's Select Committee on Constitutional, Legal and Parliamentary Affairs should have completed a public forum on the date change while the Electoral Commission (EC) will need to submit a timetable to assure the legislature that it is ready to conduct the elections on November 7, Osei Bonsu Amoah, New Patriotic Party (NPP) Member of Parliament for Akuapem South Constituency, has said.
On Monday July 11, the select committee held a public forum on the Constitutional Amendment Bill 2016. The public forum, which was attended by major stakeholders including political parties, civil society organisations, governance think tanks, the media, professional bodies and several other stakeholders, was to enable these stakeholders and the general public to make presentations on the bill.

Speaking in an interview with Chief Jerry Forson, host of Ghana Yensom on Accra 100.5 FM on Tuesday July 12, with respect to the forum and the EC's preparation for the elections, Mr. Amoah said: "We need to avoid the situation where the EC will blame parliament for approving the November election date if they are unable to do their work well.

"And so if the two-thirds of parliament will accept the proposed new date, the committee (Select Committee on Constitutional, Legal and Parliamentary Affairs) will need to find out the possible consequences of voting in November and brief the House on that.
It is not just about changing the date; the laws stipulate clearly what should be done before the elections come off, and so the Electoral Commission will need to follow the law."

He added: "I hope that the EC will produce a timetable for the election, the previous one they gave did not work due to postponement of their activities. If they bring the new timetable we will interrogate it to find out if they will be able to do it or not."