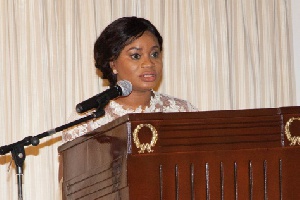 Eligible voters will cast their ballots in newly-designed voting booths on December 7 during the Presidential and Parliamentary elections.
Already, the Ashanti regional directorate of the Electoral Commission has taken delivery of enough quantity of the foldable, portable, white and plastic translucent voting booths, which will permanently replace the brown Cardboard Booths that have been in use since the 2000 elections.

The new election logistics, which were delivered in two 40-footer containers about two weeks ago, are attractively designed with the national flag on the right outer side of the voting booth, while the new logo and the inscription 'Electoral Commission' boldly embossed on the back.

It is easily accessible to persons with physical disability compared with the brown cardboard booths.

According to the Ashanti Regional Director of the EC, Serebuor Quarcoo, the new and more durable voting booth is one of the initiatives by the EC to ease the difficulties of persons with disabilities during the elections.
He further told the Finder that his outfit has already taken delivery of almost all the other logistics required for the conduct of the December 7 polls, apart from the ballot papers, which will only be printed after balloting for positions by the candidates.

Other logistics supplied to the regional directorate are the new indelible ink, wipes and life jackets for the officials who will be supervising the elections in communities beyond water bodies.

Mr. Quarcoo entreated the electorate and political parties to conduct themselves in a manner that only promote peace and safety before, during and after the elections.