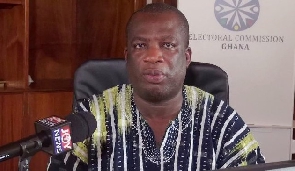 The Electoral Commission (EC) has hinted of plans to organise a special registration exercise for qualified senior high school students who are currently in school after the reopening.
Speaking in an interview with the Daily Graphic newspaper, EC's Director of Electoral Services Dr Serebour Quarcoo, disclosed the EC will soon announce the date for the exercise.

He said, "We are finalising arrangements to go to SHSs and prisons across the country to register qualified Ghanaians there, and the two exercises will be rolled out together."

He explained that officials from the electoral body would move to the schools and prison establishments on specific days to register eligible people.

"There will not be permanent registration centres there; what will happen is that our officials will go to those places, and based on the numbers, register the people and leave," he added.

The decision to organise the special exercise for the students was to prevent any qualified student from being disenfranchised.
"The students will get an opportunity to register and get their names on the electoral roll when our officials go to the schools. But it must be noted that those centres will not be permanent," he said.

On that of the prisoners, he said the law required that qualified Ghanaian prisoners be allowed to register and vote during elections.