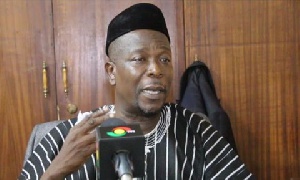 The 12 presidential aspirants whose nomination forms were rejected and, by inference, disqualified from contesting the December 7, 2016 general elections would be given back their filing fees, the EC has hinted.
The Communications Director of the Commission, Eric Dzakpasu, confirmed this in an exclusive interview to the Finder on Tuesday October 11, 2016.

Presidential aspirants of the various political parties were required to pay a sum of GHC50,000 while parliamen­tary aspirants were required to pay GHC10,000 as filling fees as part of requirements to contest the general elections.

The amount, which had been increased by 500 percent from the previous filing fees, was vehemently contested by the various political parties who described the increments as outrageous.

The Progressive People's Party went to court to the legality of the EC to request such high fees from the parties and to place an injunction of the filling process compel the EC but an Accra High Court dismissed the injunction.
As at the close of nominations, 16 presidential aspirants had paid for their nomination fees save that of founder of the independent People's Party, Kofi Akpaloo, whose filing fee was rejected.

According to the EC, Akpaloo's filing fee was rejected only bankers draft was accepted.

On Monday, the Electoral Commission rejected the nomination of 12 aspirants citing various violations in filing their nomination forms.

The initial arrangement was that the EC would refund the filing fee of any political party that is able to obtain 12.5 percent of the total votes cast in the general elections