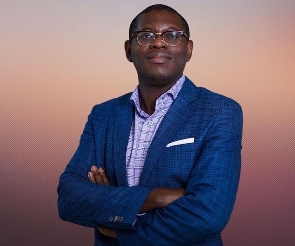 Vice President of IMANI Africa, Bright Simons has described as illogical the insistence by the Electoral Commission (EC) to make the Ghana Card the sole identification document for continuous voter registration.
He holds that only a robust opposition by the Minority in Parliament and the Speaker of Parliament can thwart the move which will lead to disenfranchisement and a burden on the vulnerable.

In three tweets posted on March 1, Simons also described the Ghana Card as an enrichment scheme for a few elites citing how the cost of the scheme has shifted over the years.

EC, NIA bosses, ofori-Atta appear before Parliament

EC Chair Jean Mensa; along with the Chief Executive Officer of the National Identification Authority (NIA), Prof Ken Attafuah and the Minister for Finance, Ken Ofori-Atta, appeared before Parliament earlier this week to defend the sole use of the Ghana Card as proof for registration of new voters.

The NIA, who are in charge of the issuance of the cards have raised logistical constraints which the Minister of Finance has assured is being addressed.

For the EC chair, her submissions explained how and why the particular card was chosen for new registrations as per the Constitutional Instruments (CI), the EC has laid before Parliament.
The Minority, has however, rejected the reasons advanced and vowed to resist the CI in and outof the House.

What Bright Simons said:

Let's not mince words here, there is ABSOLUTELY NOTHING LOGICAL about the attempt to impose the Ghana Card as the sole ID for voter registration! The Opposition should continue to oppose it with every ounce of energy! The Electoral Commission won't respect reason only stamina.

The Ghana Card is an enrichment scheme for a few elites. These people have hoodwinked the Ruling Party into believing its political fortunes depend on it. The NIA said the state's total contribution will be $124m. That the so-called PPP partner will fund the rest of the budget

In 2020, a whopping 800 million GHS was budgeted for Ghana Card rollout. In 2022, more than GHS400m. More than $250m of state money has already been sunk. This is one of the world's most expensive ID Card schemes, sorry scams. Yet, govt is expected to pay $117m in arrears.

Mr. Speaker, show your mettle. Show you are on the side of the vulnerable. Prevent that CI from being laid until a) Passports & other valid proofs of citizenship are allowed; b) any system acceptable for obtaining the Ghana Card is also made acceptable for voter registration.
Watch the new episode of The Lowdown below:



You can also watch this episode of People & Places on GhanaWeb TV here:



SARA