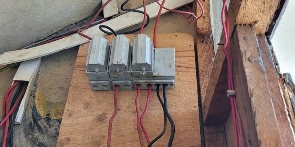 The Electricity Company of Ghana has reportedly disconnected power to parts of the Osu Police Barracks because of an illegal connection to the national grid.
According to citinewsroom.com, the task force from the ECG discovered the illegal connections on three blocks of the barracks, which had connected power directly without a meter.

The illegal connections were discovered on the ECG's usual rounds to recover monies owed by customers and disconnected.

The manager in charge of external communications at ECG, Laila Abubakarim, who was part of the team that visited the barracks, said that they had to disconnect power to the three blocks because of the illegality.

"Since it's an illegal connection, we have the first right to disconnect before we deal with issues. The Ghana police would have to come to ECG where a bill will be generated for them covering a period of 12 months," she said.

She added that they did not disconnect power to the main administration block of the barracks because of security reasons.
"The administration block also owes, but due to security implications, we've spared that facility while we discuss further the amount involved. We consider the police accommodation facilities (blocks) a general facility hence the disconnection".

Watch the latest edition of People & Places below:





Watch the latest edition of People & Places below:




IB/OGB