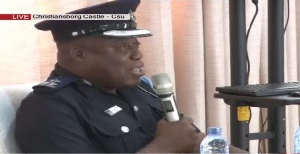 The Accra Regional Director of Operations, Superintendent Akwesi Ofori has confirmed evidence provided by Greater Accra regional Police commander DCOP Patrick Adusei Sarpong to the effect that East Legon Police Commander, ASP Asare, was part of operations during by-elections held at Ayawaso.
According to him, the operational order that was given out dealt with all within the Ayawaso, Legon division which captures East Legon.

'The operational order dealt with all within the Ayawaso catchment area" he said.

Supt. Ofori, giving his witness before the Emile Short Commission Thursday said all commanders within the catchment area, per police standards, must be greatly involved in the security of the area.

The Accra Regional Director of Operations went on to reveal that he was surprised to hear ASP Asare suggest he was sidelined in operations during the Ayawaso by-election.
''I was surprised when he mentioned it to this serious commission that he was left out. And because of the committee as a friend, I did not question him. I met him last when we all took part at the maintenance of security at the National Democratic Congress presidential aspirant's elections.''

He added that he personally believes that ASP Asare is accountable based on this instructions because that day he was on duty, '' I saw him a couple of times even at the candidate's house, he was part of my team that entered the place. He was with us at the candidate's place where I even tried to play games of dialogue and diplomacy to water down things".

''I saw him on duty being present and going about talking to people, with other officers '' he added.