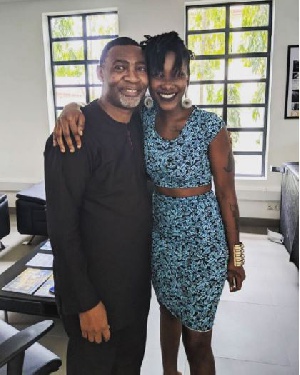 The founder of Worldwide Miracle Outreach, Rev Dr Lawrence Nene Kofi Tetteh, has shared his encounters with Ebony Reigns before her untimely death, shedding light on her aspirations and debunking misconceptions about her wealth.
In an interview on Joy Prime, the renowned international evangelist reflected on the departure of the late artiste and clarified that Ebony was not financially wealthy before her passing.

He revealed that she was in the process of breaking through in her career and had plans to travel to Europe, with his support, before her untimely demise.

Contrary to popular belief, Dr Lawrence Tetteh emphasised, "Ebony had nothing. Ebony was not 21 years old when she died. She died before she turned 21. Ebony's biggest contract with Bullet and his team had not materialized before she died. Ebony had also never been to Europe before she died.

"The only privilege she was going to have was to go abroad, which was what connected me to the fact that she was to go before she died. So, she never really had a breakthrough. She was in the pipeline for a major breakthrough, which never happened."

The evangelist further explained that following Ebony's passing, opportunities opened up for her family.
He personally facilitated the visa acquisition process for her family members to travel to Europe, providing them with a chance to experience what Ebony had aspired to achieve.

Dr Lawrence Tetteh also played a pivotal role in the organization of Ebony's funeral, as her family was financially constrained.

He recalled the moment when musician and politician, Obour inquired about the contribution from the Musicians Union of Ghana (MUSIGA) for the coffin and funeral expenses.

Recognizing the need for immediate action, Dr Lawrence Tetteh stepped in and offered to purchase the coffin himself.

With a sense of responsibility, he took charge of the funeral arrangements, and the entire event was planned at his residence.
Additionally, Dr Lawrence Tetteh revealed that he facilitated the securing of the forecourt of the State House as the venue for the funeral service and introduced Ebony's father, Opoku-Kwarteng, to political leaders.

The reverend minister added that he saw the funeral as an opportunity to have a crusade, given Ebony's Christian conversion prior to her passing.

He used the platform to preach the gospel to all attendees, creating a lasting bond between him and many Ghanaian celebrities, including Shatta Wale and Afia Schwarzenegger.

Despite the tragic nature of Ebony's death, Reverend Dr Lawrence Tetteh expressed gratitude to God for her salvation just 72 hours before she passed away.

This encounter and the subsequent funeral proceedings left a profound impact on the evangelist's life, fostering relationships with various Ghanaian celebrities and furthering his mission to spread the gospel.
ADA/DA

Watch the latest episode of Nkommo Wo Ho on GhanaWeb TV here: