Founder and Leader of the Heaven's Gate Ministries, Nicholas Osei, popularly known as Prophet Kumchacha has stated without equivocation that there is a mystery behind dancehall artiste, Ebony Reigns' shocking demise.
According to Kumchacha who once described Ebony as a demon, some people were unhappy about the success of Ebony and therefore decided to cut her life short.

"Ebony did not die a natural death. Even in our ministry, pastors strike pastors down with black magic; some poison others. Look, she died like Suzzy Williams. When she was at her peak, she died. Ebony's death is not normal. Death is inevitable but there are so many causes. If the family is interested in the cause of her death, they should go and consult any pastor they believe in and he will tell them. Her death is not natural," he said on Hitz FM's Daybreak Hitz.

He however denied having a hand in Ebony's death when he was referred to a statement he made sometime ago about burying her CDs.

In the midst of the mourning and conversations over her death, some pastors have said they predicted the situation as it was revealed to them.

Prophet Badu Kobi, leader of Glorious Wave Church International has come out to declare that he predicted her death.
Speaking to Kwasi Aboagye on Neat 100.9 FM, the Prophet stated that, he told another presenter, Kwabena Marfo, also of Despite Group, in a personal conversation that Ebony had a short life.

"I prophesized to Kwabena Marfo of Okay FM that Ebony had a short life. God revealed to me that Ebony had a short life. I would have called her in Church openly like I did SP Kofi Sarpong, after which he heard and came for prayers. I could not do same with Ebony because of the way Ghanaians react when I prophesy on such news," he said.

When Kwasi Aboagye called Kwabena Marfo, the newscaster alluded to the fact that, he had a conversation with the Prophet, who declared that indeed, Ebony had a short life.

Ebony is said to have died in a gory road accident late Thursday evening on the Sunyani-Kumasi road. She was returning from her mother's end after spending time with her and other members of the family.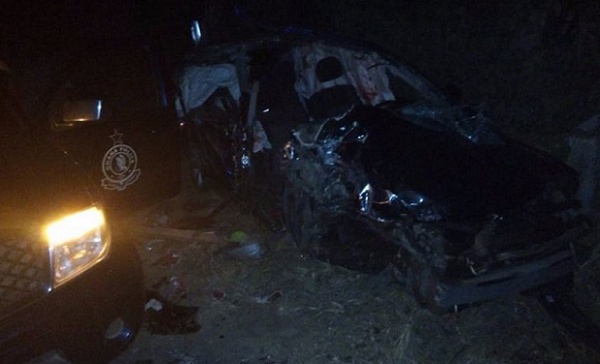 The jeep Ebony was on board mangled

The 20-year-old singer and two military officers were on board a Jeep with registration AS 497—16 from Sunyani heading towards Kumasi when it collided head-on with a VIP bus heading towards Sunyani from Kumasi, police say.

According to DSP John Adusei, Mankraso District Commander who spoke to Joy FM, the two military occupants also died later at the Bechem Government Hospital after they were rushed there.

Ebony's passing comes after rising to stardom and at a time many have tipped her to win Artiste of the Year at the Ghana Music Awards.

She was known for her risqué onstage acts and erotic performances.
Among her hit songs were 'Poison', 'Sponsor', 'Hustle', 'Kupe' and 'Maame Hwe'.