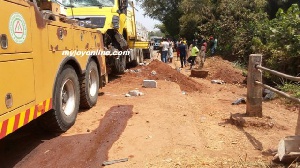 The Alliance for Social Equity & Public Accountability (ASEPA) is calling for the prosecution of the contractor involved in rehabilitating the road on which a heap of sand caused an accident that killed dancehall artiste Ebony Reigns and two others on Thursday night.
Ebony, 20, born Priscilla Opoku Kwarteng, died with the two others around 11:45PM at Nyame Bekyere near Mankranso in the Ahafo Ano South District of the Ashanti Region.

According to police report, on reaching a section of the road between Nyamebekyere and Nsuta, there was a heap of sand in the lane of Ebony's Jeep, and her driver, in trying to avoid running into the sand, swerved onto the opposite lane and grazed the nearside portion of a VIP bus and plunged into the railings at the edge of the road, killing the music star as well as Francisca Nkansah Kuri, aged 27 years; and Lance Corporal Vondee Francis Atsu, aged 29 years.

ASPEA, in a statement, said: "The contractor must be arrested and charged with man slaughter".

"The Ministry of Roads … must also be sued for failing to play their supervisory role in the construction", ASEPA said in the statement signed by Executive Secretary Mensah Thompson.