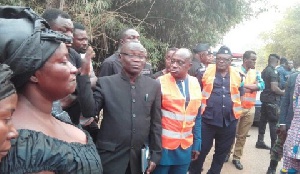 Madam Beatrice Oppong Martin, mother of sensational dancehall artiste, Ebony Reigns who died exactly a week ago has visited the scene of the accident to ascertain things for herself.
The grief-stricken woman who is yet to come to terms with the death of her last born in the gory accident a week ago while returning to Accra from Sunyani visited the scene with members of Ashanti Regional Security Council.

It would be recalled that Ebony Reigns and two others including her personal bodyguard who is a soldier and close pal died in the accident at Nyamebekeyre close to Mankranso in the Ahafo Ano South District of the Ashanti Region.

Ebony's black Jeep vehicle with registration number AS 497-16 collided head-on with a KIA Grand Bird VIP bus with registration number GT3232-17 from the opposite direction.

Her mother who until recently was in the UK appealed to contractors to execute work given to them properly to avoid a recurrence of what befell her daughter.

"I appeal to the government, head of institutions and the road contractors across the country to do their works with due diligence to avoid unnecessary accidents that claim lives on our roads. If the contractor on this road (the spot of the accident) has sped up work, my daughter might not have died. "She said.


Chairman of Ashanti Regional Security Committee and Minister, Simon Osei Mensah disclosed that their visit to the scene of the accident was to get firsthand information on the occurrence that occasioned the death of the musician.

"We have heard some many stories in the media concerning the death of Ebony and three others at this spot. Some people are saying the accident was caused by the negligence of the road contractor working here, so we are here to access the situation ourselves to help in our investigation," he said.

"We will do whatever we can to address the situation here. A lot of lives have been lost on this road because of its sharp curve and we cannot sit down on concern," he disclosed.