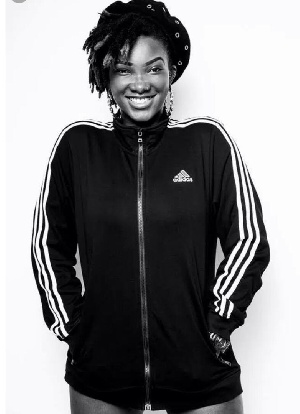 It seems all was really not well in the camp of the late musician, Ebony Reigns as the 'Poison' singer has been revealed to have been torn between three record labels at her time of death.
According to ameyawdebrah.com, the young musician who was known to be signed to Bullet's Ruff Town records was also an artiste of Midas Touch Inc. as the two labels had a partnership to sign her.

Ameyawdebrah.com further reveals that Midas Touch Inc. was actually responsible for most of Ebony's financing and that the jeep in which the artiste was travelling when the unfortunate incident occurred was actually given to her by the label for her temporal use.

The artiste is said to have asked the label for a Range Rover, but her request was ignored since they were not getting the worth of what they were spending on her as she kept cancelling paid gigs that had been arranged for her for fear of dying in a motor accident as was being predicted by many pastors.

Another reason the label refused to spend so much on a car for the artiste, according to ameyawdebrah.com's sources, was the fact they were left with less than a year to end their contract with her and as such "they couldn't see how she could 'pay back' the full cost for a Range Rover at the pace she was running, i.e. cancelling paid gigs etc."

CEO of Zylofon Media, Nana Appiah Mensah's tweet a few days after the sensational singer's death seems to give credence to this as he revealed that the two reached an agreement after negotiations even though he didn't state what the agreement was about.
Nana Appiah in the tweet said "we had a fruitful meeting and reached an agreement last Tuesday. "please help me pay him for my bailout I want to be free'' I hope you're free now and find absolute peace in the bosom of the almighty God. Let's pay critical attention to our female artistes".

Perhaps this was why Ebony's manager, Bullet warned the artiste about a week ago that he will end her career if she tries to be ungrateful.

Nana Appiah's comments have received a lot of backlash with many accusing him of being incentive to the demise of Ebony, her family and friends whilst others say he was unprofessional to have had talks with Ebony without her 'established' management.

Most Ghanaians, especially fans of Ebony are now seeking to find out what kind of bailout the 'Kupe' hitmaker asked from the Zylofon boss.