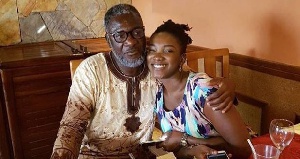 Nana Opoku Kwarteng, father of the late dancehall musician Ebony Reigns has revealed that his daughter was verbally abused on several occasions by her manager, Bullet of Rufftown Records.
According to him, Ebony at the latter part of her music career was not the least happy with her management due to how poorly they handled her.

There were reports that the young award winning artiste was actually bent on parting ways with the record label that discovered and made her a star days before her death.

Boss of the wealthy media organization Zylofon Media, Nana Appiah Mensah disclosed that Ebony prior to her demise asked him to pay Bullet off so she could join Zylofon Media and be free.

He disclosed this in a tweet eulogizing the artiste who lost her life through a gory accident on the Sunyani-Kumasi road in February.

Nana Appiah Mensah's tweet said "We had a fruitful meeting and reached an Agreement just last Tuesday. "Please help me pay him for my bail out. I want to be free". I hope you're free now & finds absolute peace in the bosom of the almighty God. Let's pay CRITICAL ATTENTION to our female artists".

Ebony's father, Nana Opoku Kwarteng in an interview on Peace FM Saturday said even though her daughter told her about the predicament she found herself, worried as he was, he couldn't really do much to free her from the shackles of Rufftown Records because Ebony was bound to a contract.
"She told me about the abuse severally, she was not happy with her management led by Bullet, she complained bitterly about her situation. As a father who so much loved his daughter, that hurt me. I was always praying for her to get out of that situation but there was a contract she'd signed, so she needed to abide by that, she had no option. I just kept my cool about what she was going through."

Ebony lost her life when her car was involved in a head-on collision with a bus while travelling from the Brong Ahafo region to the Greater Accra region where she was expected to travel to Belgium to perform at the Belgium edition of Ghana Meets Naija.