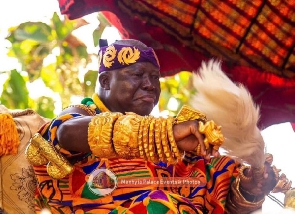 The Asantehene, Otumfuo Osei Tutu II has implored the government of President Nana Addo Dankwa Akufo-Addo to be transparent with citizens on issues to do with the economy.
According to him, there is a need for the government to come clean on the current state of Ghana's economy including the recently conducted Domestic Debt Exchange Programme.

"Our debt level has become unsustainable pushing the government to roll out a domestic debt exchange programme that aims to restructure the nation's debt and ensure some fiscal space for the country to operate.

"Sadly it appears public consultation did not take place before the programme commenced. The nation is currently in a tense mood even though government has announced the completion of the programme. I want to implore government to demonstrate high level of transparency and be candid in these difficult times in order to win the trust and confidence of the general public," the king said.

Otumfuo who was speaking at the 56th congregation at KNUST, further called on the government to engage in inclusive and broader consultations in dealing with the current challenges.

"Government should be more accommodating and reach out to those who may even oppose them politically, the interest of the country is paramount, and we must all work together to prevent the collapse of the economy. No one can pretend not to see the difficult times that we find ourselves in. But at the same time I want to encourage all of us to keep hope alive.
"As we move to negotiate with our external creditors, I urge government to bring together the best brains with the requisite expertise from all political perspectives to present the finest proposal so that whatever decision the country chooses will be everyone's responsibility," Otumfuo added.

He also called on the government to review its expenditure as a way of tackling wasteful spending.

"The current economic difficulties should serve as a wake-up call for all of us to carefully review our economy and implement some significant adjustments. The moment has come for us to reduce wasteful spending and direct resources towards economically productive areas in order to improve the quality of life of our people," Otumfuo Osei Tutu II entreated.

Watch the latest episode of The Lowdown below:


Meanwhile, catch up on the concluding part of Francis Addai-Nimoh's interview on GhanaWeb TV below:





GA/SARA