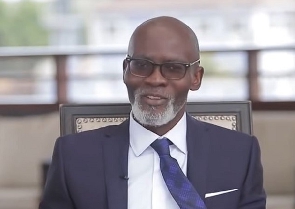 Executive Chairman of the Africa Prosperity Network, Gabby Asare Otchere-Darko, has stated that the economic integration of Africa is the surest pathway to guarantee the continent's peace, security and prosperity for all her peoples.
Delivering his welcome address at the maiden edition of the Global Africa Forum jointly organised by the Africa Prosperity Network (APN) and the Africa-America Institute (AAI) on Thursday, September 21, 2023, on the margins of the 78th UN General Assembly in New York City, under theme: "Mobilising Global Africa Investment to Boost Intra-African Trade," Mr Otchere-Darko said political and business leaders must prioritize the integration agenda of the continent.

The best way to achieve this integration in Mr Otchere-Darko's view, is to have a mindset of Africa without borders.

The concept of global Africa he said, will be much more meaningful and find expression if the continent gets rid of the borders that are dividing her currently.

He told the gathering that investors who are not Africans in any shape or form, have invested in Africa and their investments have become profitable. The "global African," Mr Otchere-Darko said, must see the need to also invest in the continent with profitability as a target.
"Back in January 2021, we (Africa) gave birth to the Africa Continental Free Trade Area (AfCFTA) which potentially means that we are creating a single largest economy in the world by virtual of the AfCFTA. If that is going to happen, then every man and woman of African descent should see the role that they can play in that" Gabby Otchere-Darko said.

The Chinese, he said, have also caught the vision and are investing heavily in Ghana and other parts of the African continent because they foresee that sooner rather than later, Africans will stop travelling to China to purchase their products and so they see the need to build their factories right on the continent.

America to Mr Otchere-Darko, is doing very little in this regard in Africa, however, he noted that it is time for the African-American, the global African, to wake up to the reality and believe in the continent as a viable place to invest their capital.