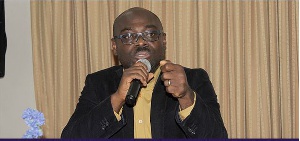 Financial Economist, Dr. Lord Mensah, has urged government to invest in projects that are self-financing to help reduce the rising debt of the country rather than constantly fall on foreign assistance for development.
According to him, the US$3 billion that has hit the Central bank's account last week, if not used resourcefully, would only be used to pay existing debts when the said amount could be reserved for projects that will generate income for the country and would, in turn, settle some of the legacy debts successive governments inherit.

In a phone interview with GhanaWeb, he stated that "the US$3 billion, you know, it's not all that is coming for the purposes of development. Some of them are going to defray already existing debt and therefore, our debt continues to rise. So the advice will be that, we should block the old debt that we couldn't find where the leakages were and the new ones that are coming, we create useful things for it and in the end, they will be self-financing."

Ghana made its eighth appearance on the Eurobond market in February 2020 at the time the local currency, cedi gained 4 percent against the US dollar.

Government was fortunate to raise an amount of US$3 billion in different bonds at various maturities.

The longest dated bond was forty-one years together with a seven-year and 14-year dated bonds.
Eurobond issuance

The three-tranche bond was sold with 7-year, 14-year, and 41-year maturities. The government accepted US$1.25 billion for the 7-year-bond at a coupon rate of 6.375 percent.

This compares favourably to an exact tenor bond government issued in 2019 with a coupon rate of 7.875 percent.

Also, the government was successful in securing US$1 billion with a maturity period of 14 years at a rate of 7.75 percent. This rate also trumps the 8.125 percent the government accepted for a 12-year bond issued as part of the 2019 Eurobond.

The last of the three bonds issued was a 41-year bond which happens to be the longest dated bond issued by an African country. The government accepted to borrow US$750 million at a rate of 8.75 percent for the longest dated bond which matures in 2061.