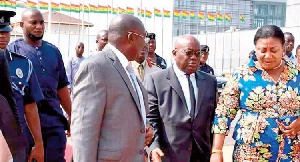 Contrary to the impression created by the previous National Democratic Congress (NDC) administration, the Ghanaian economy is in a mess.
At a press briefing to announce his last batch of ministerial nominees at the presidency on Thursday, President Nana Addo Dankwa Akufo-Addo painted a different picture from what Ghanaians were told by his predecessors.

"Our economy is in difficulty," he noted.

He is therefore not expecting to witness any long-winding process that would delay the approval of his appointees in order to hit the ground running saying, "Our economy is in difficulty and it is therefore time for all of us to put our shoulders to the wheel, work hard and have the appropriate policies in place that will enable us to lift our economy and bring relief to our population.

"The Ghanaian population should not be in the position they are now; our country has a lot of resources. Proper management of these resources and correct policies should be able to generate prosperity for our people…I can't do it all by myself; we need all these people," he stated.

Nana Akufo-Addo expressed confidence that "the caliber of people that we have put before the House is such that parliament will not have any difficulty in approving my nominees…many of them are already known in our national lives. They are men and women of integrity; they have passed several tests of public scrutiny and I'm expecting that the House will act expeditiously so that the government can begin delivering on the promises and commitments we have made to the Ghanaian people."

So far, the president has nominated 36 people for ministerial portfolios, including six new ministers of state at the presidency.
France-Africa Summit In Mali

Meanwhile, President Akufo-Addo left Accra yesterday to attend the 27th France-Africa Summit in Bamako, Mali – his first foreign trip as president.

The Summit, which is aimed at enhancing the integration process, collective action and cooperation for the common good of participating countries and their peoples, will bring together heads of state and governments from some 30 countries.

He was accompanied by the 1st lady, Rebecca Akufo-Addo.

They will return home on Saturday, January 14, 2017, a statement signed by Eugene Arhin, Ag. Director of Communications, indicated.