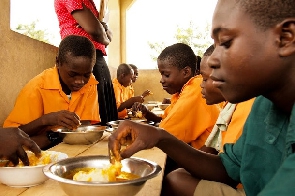 The Ministry of Education has expressed shock over the reported food shortages in Yaa Asantewa and Armed Forces Senior High School in the Ashanti region.
Government is yet to release a feeding grant to Senior High Schools (SHS) across the country almost a week after school reopened.

The information available to GHOneTV News indicates some schools have not yet started serving food at their various dining halls due to the situation.

However, speaking to Starr News with Naa Dedei Tettey the Deputy Public Relations Officer (PRO) of the Ministry of Education, Yaw Opoku Mensah however assured the public of the Ministry's resolve to get food for the students.

"The response that I got was quite different from what you are narrating to me. So it's not only surprising but I am short of words to even describe this. The narrative I got was that students are fed according to the plan or the directives as school was reopening. But if you refer to me where some received their monies late then I will agree with you.

"On the basis that those who don't receive their funds from the rural banks had theirs early on Tuesday and Wednesday. Those for the Commercial Banks also started receiving theirs on Wednesday. The delay was those that were receiving their funds straight from the Bank of Ghana. A letter of receipt from school heads across the length and breadth of the country was taken," Opoku explained.
He continued: "The food situation within our schools as we speak is not as it is pertained or put out there. And I want to get accurate information as to what happened. That is why in the various regions, we do have coordinators all over as well as the GHAFA regional coordinators. If a school does not have an item, the school knows where to report to and gets heads up. So, it becomes surprising when Armed Forces and Yaa Asantewa Senior High School is mentioned."

Meanwhile, a teacher who spoke with GHOne TV on condition of anonymity said: "Students haven't been served at dining since we resumed, we are told the government is now distributing food items to the various Senior High Schools.

"Parents should send more money to their wards for feeding," the teacher added.

A student who reported on Monday also said: "I reported on Monday 9th January 2023 and to date we haven't been served any food at the dining hall yet, I have used all my money to buy food".

The student added that food vendors at the school canteen haven't resumed yet thereby resorting to eateries outside the school boundaries, mostly at Bantama and Adum in the evening.