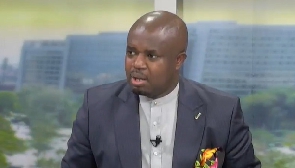 A member of the legal team of the National Democratic Congress (NDC), Godwin Edudzi Tamakloe, has slammed the Christian Council of Ghana for its silence on issues regarding the 'dual identity' of the secretary to the Board of Trustees of the National Cathedral of Ghana, Rev Victor Kusi Boateng; and other recent happenings.
Speaking in a Neat FM interview, on Thursday, July 27, 2023, monitored by GhanaWeb, Lawyer Tamakloe accused the Christian Council and other Civil Society Organisations, who heavily criticised the government of John Dramani Mahama, of being biased because worse things are happening now and they are silent.

He added that these agencies are not criticising the Akufo-Addo government because of ethnocentric reasons.

"It appears the stick that was used on Baah is not being used on Takyi. Because people see Takyi as their kinsman. In 2014 and 2015, the Christian Council wrote that Ghana was deteriorating under Mahama or something like that.

"When was the last time you heard Christian Council come out to say that the happenings under the Nana Akufo-Addo government are horrible?" he quizzed in Twi.

The lawyer alleged that the presidency was aware that Kusi Boateng had multiple identities but it issued a diplomat passport for him.
He added that a High Court of Ghana has ruled that Kusi Boateng having another Identity as Kwabena Adu Gyamfi borders on criminality but nothing is being done and everybody is silent.

"This government wrote a document approving that Rev Victor Kusi Boateng should be given a diplomatic passport. At the time Bediatuo Asante (the executive secretary of the president) wrote this document, he was aware that Kusi Boateng had multiple identities but the president gave him a diplomatic passport.

"Ghanaians are silent on this as if nothing has happened… because just as Prof Lumumba said, 'he is a thief but we like him like that because he is our kinsman," he added.

Watch the interview below:


BAI/WA

Watch the latest episode of the Lowdown on GhanaWeb TV below: