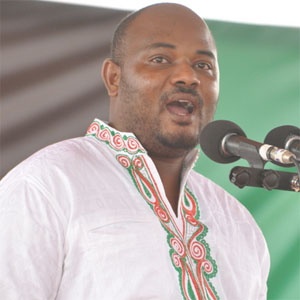 The Former National Youth Organizer of the People's National Convention (PNC) Abu Ramadan has defended his decision to join the opposition New Patriotic Party (NPP).
He told ultimatefmonline.com in an exclusive interview via phone on Sunday that he cannot go ahead to campaign for a presidential candidate who could not fill his nomination forms and therefore think Nana Akufo-Addo is the Ghana's best bet.

"My brother elections are not like WAEC examination where you must always be writing after several failed attempts. He could not even fill his forms and was disqualified by the Electoral Commission (EC) but for the intervention of the Supreme Court. Even with that, I can assure you he will not be able to make it", he said.

According to him, Ghanaians should not waste their votes in trying other smaller parties that cannot make a difference in this election stating that this election is so critical
Mr Ramadan, who is the younger brother of wife of Vice Presidential Candidate of the New Patriotic Party (NPP) Samira Bawumia, revealed that he officially divorced his relationship with the PNC last Friday December 2, 2016 and is now a card bearing member of the NPP.

He promised to work hard in ensuring that Nana Addo Dankwah Akufo-Addo becomes the next president of the country by December 7 urging all who mean well for the country to vote massively for the NPP's presidential nominee.

In the 2012 general elections, Abu Ramadan mounted an NPP platform to announce his support for Nana Akufo-Addo's presidency against his party's presidential candidate Hassan Ayariga.