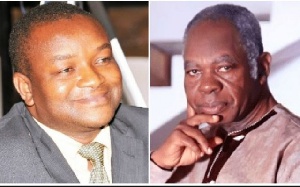 The founder and leader of the All People's Congress (APC), Hassan Ayariga, has criticised the decision of the 2016 flag bearer of the People's National Congress (PNC), Dr Edward Mahama, to accept an appointment as an Ambassador-at-Large in the Nana Akufo-Addo government.
For him, the position makes Dr Mahama an "errand boy" adding that he (Mr Ayariga) will never accept such a position since it is below his status.

"What I understand as Ambassador-at-Large is [that it] practically [means] an errand person, like an errand boy to the president. President sends you anytime he wants…you are not even up to an aide, an aide is even much higher," Mr Ayariga told journalists at a press conference on Tuesday, July 11 in Accra.

"If he thinks he is comfortable and he thinks that is how he wants to serve this country, well enough but as for Ayariga, that position is not for Ayariga and I will never ever accept that."
For him, the PNC must query Dr Mahama on his acceptance of the appointment as it does not augur well for it as a party.

"The PNC should sit him down and ask him why he refused an offer in Kufuor's regime to be a running mate but rather go in to be an ambassador …I mean an errand boy," he reiterated.