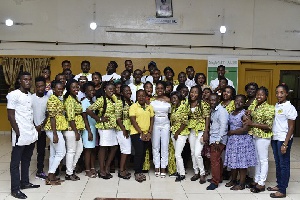 Sun, 31 Dec 2017 Source: Patrick Oppong-Sekyere Mensah
A two-day conference aimed at equipping singles with skills and knowledge for an effective living before marriage has been held.
The power-packed conference with the theme "Visioning" took place on the 28th and 29th December 2017 at Nurses Guest House, Shiashie, Accra.

It started on Thursday 28th December with a Coordinators training session and in the evening, the main event began.

The second day was a full session which began from 9am and ended 5pm with educative messages and much fun (mingling sessions).

The conference was graced by Pastor Charles Bobie Ansah of the Throne of God's Grace Ministry and Mike Quansah who is an author of numerous books and CEO of Vision Academy and Virtual Publications.

Speaking on the theme, "How to know your vision and pursue it", Mike Quansah explained that "vision is the ability to see your future in the future and Visioning is how to arrive at your vision".

"Pastor Charles talked about "How to guard your vision", where he mentioned that "you cannot get your vision without getting to the creator of the vision."
The conference was organized by Single WITH A LIFE, an organization that with motto "Equipping Singles for Purpose and Better Marriage".

SWAL was founded by Miss. Peace Adams who is the CEO, a Ghanaian based in the United Kingdom. She saw the need to bring Singles together and equip them mainly in these areas; "Purpose Discovery, Self Development and Marriage Preparation".

The CEO and Founder had this to say when asked of her inspiration and the reason for this annual conference "My heart beats for singles and young people when I see them desperately chasing after marriage when in fact, they have not fully utilised their singleness yet".

"However, I understand the pressures out there on singles to get married especially just after university. I have suffered from desperation which almost messed my life up emotionally but thanks be to God for coming through for me at the right time. My vision is to see singles equipped and better emotionally, mentally, financially etc to handle life itself before marriage that is if they so desire to embark on that glorious journey."

SWAL as an organization has been impacting the lives of Singles since the year 2015 and can be found on Facebook, YouTube and Whatsapp which happens to be the current and main platforms it's being operating through. It currently has members from the UK, Ghana, Nigeria and Botswana.

The attendees came from far and near within Ghana, as well as some from Nigeria. The excitement and feedback from the attendees of the event tell it all of how blessed and impacted they were.
Source: Patrick Oppong-Sekyere Mensah