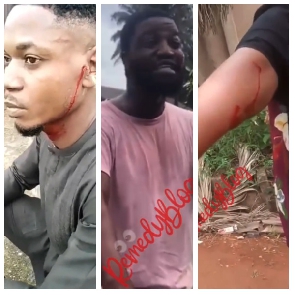 A series of videos have emerged of voters bleeding profusely from different parts of their bodies due to attacks inflicted on them by thugs of a political party.
The videos making rounds showed how these residents from various polling units were attacked for trying to exercise their franchise.

At Desa Ibeju, Lekki, a voter was beaten and left with a broken nose after thugs confronted him for not voting the ruling All progressives Congress APC and tore his ballot paper.

He said although he tried to retaliate he got beaten to a pulp.

A young man also shared a video of himself beaten with a cane by thugs alleged to be supporters of the APC.

He had blood running down his neck and some bruises around his head.

Another video of a brutalised voter has hit the internet, the woman lamented over the attitude of political thugs who saw all voters at the polling units as supporters of one particular party.
A youth was seen weeping with blood on his cheeks after he was beaten by some unknown men for voting the Labour Party at his polling unit in Owodunni street, Onipanu, Lagos.

Despite INEC promising the election will be conducted in a free and fair manner, a video of a man sharing his ordeal in the hands of thugs is making rounds.

According to him, he was flogged out of his polling unit in Isolo, Lagos state. He said he was been accredited and was about to cast his ballot when some thugs came out with cane and flogged him mercilessly.

A young lady, identified as Uzodimma Lucy Ogodo, shared a photo of her eyes bleeding from the attack of some APC thugs. She explained that she was followed to her polling units and insisted she votes APC.

She said, "Today I went to my polling unit to perform my civic duty...APC thugs followed me to my polling booth insisting I vote APC, of course, I refused and voted my preferred candidate after much struggle to tear my ballot paper, in front of the already bought over security men and INEC."

Below are videos of the incidents: