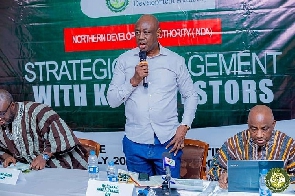 The Northern Development Authority's (NDA) Acting Chief Executive Officer (CEO), Sumaila Abdul-Rahman, has announced his resignation.
"I write to resign from my position as Acting Chief Executive Officer (CEO) of the Northern Development Authority (NDA). This decision has become necessary to enable me step aside and allow the ongoing judicial process to take place without any interference," Mr Abdul-Rahman stated in a letter addressed to President Nana Addo Dankwa Akufo-Addo.

He also thanked the President for the opportunity to serve.

"Let me take this opportunity to thank His Excellency the President for giving me the mandate to serve our country as the Acting CEO of the NDA," the letter said.

Meawhile, the High Court in Tamale will on Tuesday, 4 April 2023, begin trial of the case involving a private businessman and three former officials of the NDA including the now past CEO.

The Court will also continue with the hearing of the case on Wednesday, 5 April and Thursday,6 April 2023.

On Tuesday, 28 February 2023, the court during the Case Management Conference (CMC), went through the documents filed and mentioned in the witness statements.
The Special Prosecutor (SP), Kissi Agyebeng, charged the three persons at the centre of the procurement breaches at the NDA for conspiracy to directly or indirectly influence the procurement process.

This followed the conclusions of investigations by the Office of the SP into allegations of procurement breaches at the NDA.

The Chief Executive of A&QS Consortium Limited, Mr Andrew Kuundaari was charged in addition to the three persons.

The three have been charged with directly or indirectly influencing the procurement process to obtain an unfair advantage in the award of a procurement contract.

The three are: now immediate Chief Executive NDA, Mr. Sumaila Abdul-Rahman, Deputy Chief Executive (Operations) of the NDA, Mr. Stephen Yir-eru Engmen and Deputy Chief Executive (Finance & Administration), NDA, Mr. Patrick Seidu.