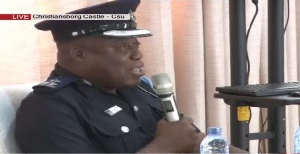 Regional Director of operations for Accra, Chief Superintendent Akwasi Ofori has stated that there is a possibility that any group could have posed as National Security Operatives just to cause mayhem at the various polling stations during the Ayawaso Wuogon elections.
According to him, the police service had a challenge calming tensions during the Ayawaso West Wuogon polls because of the activities of the 'National Security Operatives'.

"Even though it was captured in our operational order on the day that some aggrieved persons may snatch ballot boxes or terrorist groups may take advantage of the crowd to act, calling for backup to calm situations down because of the activities of the group in the police SWAT car was a challenge " he narrated.
Chief Superintendent Ofori further revealed that the hunter car used on the day by the men in masks neither belonged to the police service nor the Police SWAT team.

He said this while giving his testimony before the three-member commission of Inquiry probing matters related to the violent clashes that occurred during the Ayawaso West Wuogon elections