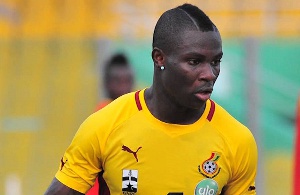 AFC Eskilstuna sporting chief Azad Budak insists departing Ghanaian midfielder Emmanuel Frimpong is not a flop despite a difficult campaign in the Swedish top-flight.
The 25-year-old joined the Allsvenskan in February this year from Arsenal Tula as a free agent from but has struggled to assert himself.

The club has announced that Boateng could leave the club after just six months.

But the club's sporting chief does not see the acquisition as a flop.

" It's for family reasons. His family has not lived here and it has been difficult for him, "said sports director Azad Budak to the football channel and continues:
"He came in with positive energy but was injured at the beginning, which was difficult because we could not use him all the time. But we're glad we did a try.

"I do not see a job as failed, we learn something from each. It is true with all the requests actually, there is never any guarantee. Even big clubs outside Europe do not always get what they hoped for various reasons. It has been a fun guy to wear the dressing room and he worked well in the group.

"It's different if you buy a player and do not get anything out. But we have never been in a position where we could buy players, and we have just been looking for players who are free. That's how we work, we bring players who might need to get playtime and give them a second chance to sell on. We have been quite successful with this."

The Ghanaian started four of the first five matches but has failed to make the starting line up since being substituted against Östersund.