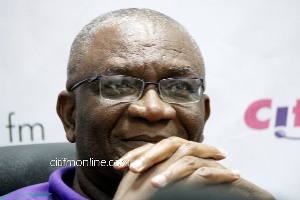 Former Energy Minister, Boakye Agyarko has revealed that his late brother, Member of Parliament for Ayawaso West Wuogon, Emmanuel Kyeremanteng Agyarko in his deteriorating health situation would have kicked against being put on a live support machine and would rather prefer to die.
He chronicled the last moments of his late brother to a Parliamentary delegation which visited the bereaved family to commiserate with them.

"Knowing him and knowing the rest of us, knowing our beginnings and where we've come from and knowing him particularly that he loved life and enjoys the use of it, it would not have been his wish to be on life support just hanging in there for whatever God knows. So Tuesday midnight the situation started unraveling very quickly, stabilized for the whole of Tuesday, but Wednesday dawn is when he suffered a consistent decline and at one point there was really nothing medicine could do. If anything had to be done there was going to be done, it was his own creator intervening saying Tali takum.

"It was around 1:23 am that Doctors came around and took away the life support systems and in very short time as soon as the tubes were taken off, he passed.

Boakye Agyarko disclosed that his late brother who was former Chief Executive Officer of the Food and Drugs Authority (FDA) died on Wednesday November 21, 2018 at Yale University Hospital in the United States from an acidic reflux and a malignant gallbladder infection.
The late MP reportedly battled with the disease for the past three months and had to be flown outside the country due to the deteriorating health conditions.