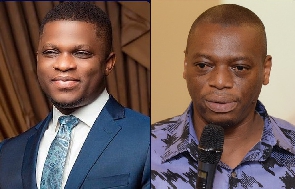 Vice president Mahamudu Bawumia was referred to recently as E-Bawumia because he is 'empty' not because of 'electronic' causes he has been championing in promoting efficiency in government service delivery.
This is the verdict of Sammy Gyamfi, National Communications Officer of the National Democratic Congress (NDC) during the March 9 edition of Good Morning Ghana porgramme on Metro TV.

The E-Bawumia label was used by president Nana Addo Dankwa Akufo-Addo during his March 8 State of the Nation Address (SoNA) presented to parliament.

"Today where is that your economic Messiah? He is no where to be found and in the midst of this crisis that he has created as head of the Economic Management Team, the president says we should call him E-Bawumia.

"Of course, we will call him E-Bawumia, which definitely means Empty Bawumia. Yes, because the president says the vice president is nicknamed E-Bawumia.

"We have now discovered based on his performance that that E-Bawumia really fits him very well because we know that it means Empty Bawumia, E for Empty," Sammy submitted.
He challenged Bawumia to revisit his claims of the economic fundamentals and exchange rate, charging at him for being dead silent before referring to him finally as "an unmitigated disaster, a monumental failure."

Sammy's co-panelist disagreed, arguing that the vice president was extraordinary in his management of the economy.

The Member of Parliament for Kwadaso, Eugene Nyarko said: "We call him extraordinary Bawumia because of the interventions that he has brought in this economy. You want to find Bawumia? He is around, he is working.

"In fact, the digital transformation that is going on in this country could be attributed to Dr. Mahamadu Bawumia. Any time his name is mentioned, you guys shivers like a butterfly because you know that Bawumia is extraordinary, energetic and somebody who when the opportunity comes can make this country better.


What Akufo-Addo said about Bawumia in SoNA

We have integrated many processes within the digital environment, and for this we have to recognise the efforts of many component parts of the government, such as the Ministry of Communications and Digitalisation, the National Identification Authority, and especially the Vice President, Dr. Alhaji Mahamudu Bawumia, who, I understand, has been nicknamed E-Bawumia.

Our need for technological reinforcement within all our structures and spaces is unending, and we will continue to push the frontiers of our engagement with the technologies of information, economic development and human transformation.

Watch the new episode of The Lowdown below:


You can also watch this episode of People & Places on GhanaWeb TV here:



SARA