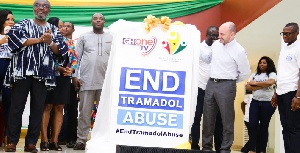 The nationwide campaign to end the abuse of Tramadol in Ghana has been launched.
It was launched at the Eusbett Hotel, Sunyani on Friday, August 10 as part of activities marking International Youth Day celebration under the theme 'Safe Spaces for The Youth.'

Named #EndTramadolAbuse, it seeks to highlight dangers involved in abusing the drug, and also provide rehabilitation for persons who want to kick the habit.

The colorful event was attended by officials of National Youth Authority (NYA) including its Chief Executive Officer, Emmanuel Asigri, staff of GhOneTV and some notable chiefs in Sunyani.

Hundreds of participants at the launch expressed their appreciation to the organizers for the timely initiative and promised to support to ensure a successful campaign.

There was a performance by a cultural troupe in the region.
Nana Aba Anamoah, Project lead of the campaign and News Editor of GhOneTV shared with the audience the inspiration behind the project and her experiences meeting addicts.

The effects of Tramadol have been extensively highlighted j her show 'State of Affairs' in the past few months.

In July 2018, EIB Network and NYA signed a memorandum of understanding as part of efforts to ensure the success of the campaign.

Mr Asigri disclosed that the Authority will facilitate the construction of rehabilitation centers across the country to help addicts.

He shared conversations he had with experts on the way forward.
"We can do whatever it, the education, trying to get people out of it. If we don't have rehabilitation centers where we can take this people through and then bring them out, it is going to be very difficult for them to get out of it completely."

Nathan Kwabena Anokye Adisi, Chief Executive Officer of EIB Network also promised that all resources available will be used to support the campaign.

"From day one, we have taken this up because we believed that we have to spearhead… It is national, I don't want to call it a disaster but clearly it is something that's hurting the nation. When "State of Affairs' in that respect GhOneTV took it upon itself to highlight the abuse of this drug, we all welcomed it."

The #EndTramadolAbuse campaign is a partnership between EIB Network and National Youth Authority (NYA).