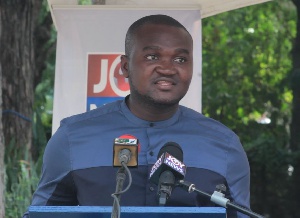 Member of Citizen Ghana Movement, Nana Akwasi Awuah, has claimed that the ruling on the controversial Smarttys bus branding scandal compelled the affected institutions to release documents covering the AMERI power deal.
He made these claims at the public forum held to celebrate the International Day for Universal Access to Information.

"Based on the judgment in the bus branding matter, they felt compelled that they needed to give the information anyway because the probability that that court or that judge would follow the decision of his brother was high. And so they gave that information", he claimed.

According to Nana Awuah, Occupy Ghana had already sued the Ministry of Energy on AMERI in a different court. Thus, while the judgment on the bus branding scandal was delivered by the Human Rights Court 2, the AMERI case was before Human Rights Court 1.

"Immediately that decision came in Human Rights Court 2, the institutions that we had sue – Parliament and the Ministry of Energy, connected with the AMERI deal immediately filed all the processes and all the documents covering AMERI", he explained.
The Smarttys bus branding saga resulted from government's decision to spend GHc3.6 million of Ghana's oil revenue on branding some 116 Metro Mass Transit (MMT) buses, which was widely criticized and described as reckless.

The scandal compelled the Transport Minister, Dzifa Attivor to resign after a massive public outcry.

The Chief of Staff, Julius Debrah, subsequently ordered the Attorney General to investigate the matter after which Smarttys was ordered to refund the excess payments made.