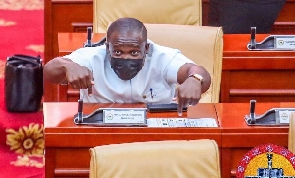 Member of Parliament for Ningo Prampram has supported a threat of action against a pro-government group that has announced a planned picket at the office of former president John Dramani Mahama.
The group known as 'Fixing the Country Movement' and led by a Deputy Communications Officer of the New Patriotic Party (NPP) insist that after a 14-day ultimatum, seeking action on the Airbus Corruption scandal, it would resort to picketing at Mahama's office because he is a subject of the said scandal.

The group wants the Office of the Special Prosecutor to take action on the matter and to invite Mahama for questioning.

The National Democratic Congress (NDC) Greater Accra Youth Wing in a statement earlier this week dared the Ernest Owusu Bempah-led group to attempt their picket.

They asked the picketers to pay for their graves and coffins before embarking on the mission, a signal that they would meet them with some level of force.

The Ningo Prampram lawmaker responded to the statement by the NDC youth group, giving his blessing for the proposed threat.

He posted on Twitter (now X): "I have seen your letter to a non-entity that claimed it is preparing to embark on a journey to nowhere.
"Kindly know that I stand ready to offer any support that is needed by the Greater Accra Youth Wing to deal swiftly, brutally, and decisively with any silly attempt that he and his paymasters seek to embark on. Enough of the rogue mercenary claptrap in this Country."

Sam George is the second MDC MP to comment on same. Builsa South MP Clement Apaak also tweeted his take as follows: "You have been served notice. John Dramani Mahama's Office is NOT the office of the OSP. If the OSP fails to do what you want, shouldn't you be picketing at the OSP's office? You will trespass at John Dramani Mahama's office at your own risk."


Dear @ItsAmos1,

I have seen your letter to a non-entity that claimed it is preparing to embark on a journey to nowhere.

Kindly know that I stand ready to offer any support that is needed by the Greater Accra Youth Wing to deal swiftly, brutally, and decisively with any silly… https://t.co/r8QNHQ9t8j

— Sam 'Dzata' George ???????????? (@samgeorgegh) September 27, 2023
SARA
Ghana's leading digital news platform, GhanaWeb, in conjunction with the Korle-Bu Teaching Hospital, is embarking on an aggressive campaign which is geared towards ensuring that parliament passes comprehensive legislation to guide organ harvesting, organ donation, and organ transplantation in the country.

Watch the newest episode of The Lowdown on GhanaWeb TV below