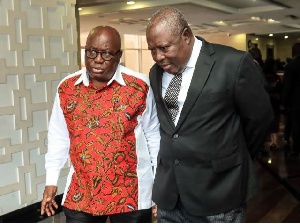 The Ghana Integrity Initiative (GII) has asked President Akufo-Addo to walk his talk and immediately resource the office of the Special Prosecutor.
"We want him to do more…based on his campaign promise, based on his speeches on the appointment of the governing board. We expect to see more because our bane as a country has been with investigation and prosecution of corruption.

"And, so, the people of Ghana are looking forward to seeing Martin Amidu work with his Act and also with a legislative instrument that gives him power and assigns him a clear role as to how to perform his duties," Mary Addah, the GII's Programs Officer told Starr News.

Her comments come on the back of President Akufo-Addo's assurance during a meeting with some Ghanaian in the United States that Mr Amidu will "bite soon" as efforts are being put in place to resource him in the fight against corruption.

Amidu's concerns

Speaking at the National Audit Forum organized by Ghana Audit Service in Accra last month, Mr Amidu complained of attempts to stifle his efficacy by some appointees of the president, noting that Ministers have not been forthcoming with critical documents required for him to deliver on his mandate.

"You ask for information you can't get it, you ask for docket, the docket cannot be produced. You ask a minister for a record, the record cannot be produced. How do you fight corruption when those appointed by the president who has a vision are not coordinating with the office of the special prosecutor to achieve his mandate? That is the challenge we have to face," he said
Again, he said due to the lack of the necessary logistics, including legislative instruments (LIs) to function as required by the office, he compelled to use his "common sense."

The Attorney General and Minister of Justice, Gloria Akuffo however, rejected the claims, telling Starr Today's Naa Dedei Tetteh that: "That's not the case."

"I have held meetings with him [Amidu] that requires sharing ideas about the goings on in the banking industry, we have shared ideas about how we should go about investigating and prosecuting it, there's no time that he had sought to speak with me that I haven't spoken to him.

"There's no breakdown," she added.

Out of place to resign over inadequate resource

Meanwhile, the Executive Director of the Ghana Centre for Democratic Development (CDD-Ghana) Professor Henry Kwasi Prempeh said it will be out of place for Mr Amidu to resign over inadequate resources to function.
The National Democratic Congress (NDC) Member of Parliament for Buem, for instance, advised Mr Amidu to immediately resign with some suggesting that he is causing financial loss to the state.

However, appearing on Morning Starr on Monday, 1 October 2018, the CDD-Ghana boss said those suggestions are too "extreme."

"Those are extreme reactions," Prof. Prempeh told host Francis Abban.

"Some things must be managed at a time," the legal practitioner said about equipping the Office of the Special Prosecutor, adding "I still hope it will add value to the fight against corruption. I don't think the law enforcement solution to fighting corruption is adequate."