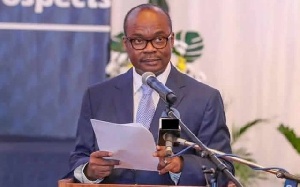 The Governor of the Central Bank has disclosed that by the end of the first quarter, the bank will have finalized the necessary modalities for the effective implementation of the Enterprise Credit Scheme initiative.
The scheme, which was announced by the Finance Minister, Ken Ofori-Atta, in his 2020 Budget and Economic Policy will target some GH¢2 billion for businesses and entrepreneurs to bring the liquidity that is required to manage their credit at a preferentially priced rate.

According to Dr Ernest Addison, the central bank's contribution to the scheme will come by way of allowing commercial banks to use 2 percent out of their 10 percent of deposits from primary reserves compulsorily placed with the Bank of Ghana.

The Governor made this known during the 92nd Monetary Policy Committee press briefing last Friday, January 31 in Accra.
Dr Addison, however, assured that the funds will be kept at the Central Bank and made available to institutions that participate in the Scheme.

Finance Minister, Ken Ofori-Atta, in an earlier interview with GhanaWeb said; "If you look at the budget that was read on November 13, 2019 the new Enterprise Credit Scheme which will target some GH¢2 billion is meant to bring the liquidity that is required for entrepreneurs and businesses and also see whether we can take some first loss also on de-risking mechanisms which will then enable the lending rates to be much lower."

"Our expectation is that, the Enterprise Credit Scheme will catalyze on entrepreneurship and the youth to get into jobs," Ofori-Atta added.