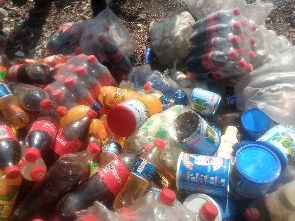 Mon, 13 Mar 2023 Source: GNA
The Ada-East District Environmental Health Department has cleared expired goods from various shops and markets in the district.
The items included soft drinks, tomato pastes, alcoholic drinks, milk powder, cocoa powder, and pharmaceutical products,

The operation, which was undertaken in collaboration with the National Disaster Management Organisation (NADMO), is to ensure food safety and protect the community from the consumption of expired foods.

Mr Frank Abima, the Head of Department, Environmental Health, announced this during an Ordinary Session of the Ada-East Assembly.

He said the Assembly had hints around the Christmas period, last year, that there were a lot of expired products on the markets.

He said the concerns triggered a full operation, conducted by the Department and NADMO, where personnel visited shops and markets at Kasseh, Ada Foah, and Big Ada, and all expired products were confiscated.
Mr Abima said although the Food and Drugs Authority did not have an office in the district, the Authority liaised with the Assembly to promote food safety.

He cautioned the traders to be cautious when they moved outside the district to buy items to sell and admonished consumers to check the expiry dates on products before buying.

Watch the latest edition of BizTech and Biz Headlines below:








Watch the latest edition of Business Moments below:


Source: GNA