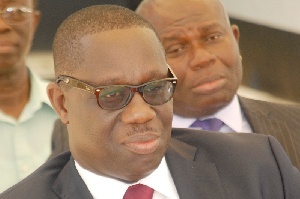 Former board secretary for Accra Hearts of Oak, Mr Ernest Thompson has urged the Ghana Football Association to have an implementation plan if they want to succeed.
According to the former SSNIT boss, they must have a well-crafted plan to implement all their ideas If they want things to go well.

"Above all what kind of implementation plan you will have because you can have the best of plans but if your implementation plan is poor you will run into problems," he told Kumasi based Akoma Fm.

"When I'm talking of systems I'm talking about the technology he will introduce into football in terms of how to run the GFA secretariat and the rest."

He called for the adoption of new ways of doing things to help improve productivity by introducing software and new systems.
"A lot of things have been done manually and there is the need to improve productivity by bringing in some new systems, software and the rest which will enure to both the benefit of the clubs and the FA."

Mr.Thompson urged the new GFA to at most come out with their strategic plan latest by six months.

"I will be expecting that within six months or so he will launch a strategic plan for us to read so that we can buy more into his ideas."

"Because it can not be just one-off talking every day new things coming out every day, you will need a very holistic plan," he said