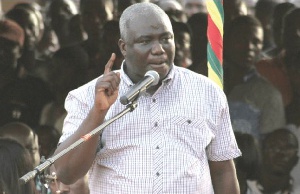 Moses, the prophet, advocated a 'boot-for-boot' defence strategy among the Israelite in the Bible, therefore, there is nothing wrong with former president John Mahama's warning that the main opposition National Democratic Congress (NDC) will match the governing New Patriotic Party (NPP) in similar manner during the 2020 general elections in terms of violence, Asunafo South MP Eric Opoku has said.
Mr Opoku told Kwabena Prah Jnr (The Don) on the Ghana Yensom show on Accra100.5FM on Monday, 18 February 2019 that: "When you read the Bible, you will realise that at a point when Moses was fed up with the incessant complaints from the Israelites, he asked them to retaliate if anyone of them assaults another.

"The point is, if there is no first boot, there would not be a second boot and, so, the NPP administration must desist from the intimidation. In my view, there is nothing wrong with what former President John Mahama said."

While addressing NDC delegates in the Adaklu Constituency of the Volta Region on Thursday, 31 January 2019, Mr Mahama said the NDC will resort to violence in defending itself if the government attempts to intimidate and harass NDC supporters during the 2020 polls.

The former president's comment followed a shooting incident at La-Bawaleshie in the course of the Ayawaso West Wuogon Constituency by-election.

The NDC accused the NPP of being behind the shooting.
Mr Mahama said: "We are not going to joke in 2020, and I'm sounding a warning to the NPP – we are going to match them boot for boot…"



"I want to sound a caution that NDC has a revolutionary root and when it comes to unleashing violence, no one can beat us to that. It is just that we are mindful of this country's democracy and that is why we must be the first to respect it. That is why we are acting as a party that is docile and respecting the rule of law. But if we believe that the government cannot protect our people and we believe that the government is using its vigilante groups and illegal forces to intimidate and harass and injure our people, then we may have to advise ourselves."

He added: "We respect the Constitution of this country and the NDC is a democratic party and that's why we abide by the rules of the Constitution. But the same Constitution says that Ghanaians should resist anybody who attempts to subvert the Constitution. When you go rampaging with forces and intimidating people when they should come out and vote, you are subverting the Constitution. And we have a right to resist you."