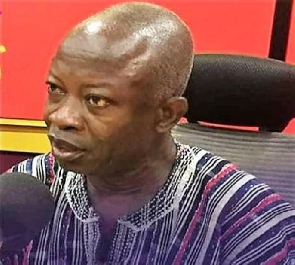 Dr. Kwasi Amakye-Boateng, a Political Science Lecturer at the Kwame University of Science and Technology (KNUST), has made a bold assertion regarding the upcoming 2024 general elections.
According to him, the incumbent New Patriotic Party (NPP) will not be able to secure victory, despite their unwavering determination to break the eight-year cycle.

During an enlightening interview on the Oyerepa Breakfast Show, held on Thursday, July 13, 2023, Dr. Amakye-Boateng emphatically expressed his belief that the NPP's mismanagement of the country's economy has left Ghanaian voters with no choice but to opt for a change in leadership.

"Akufo-Addo's government can't change the country's economic misfortunes before the 2024 polls. The writings are on the wall that the elephant is going back to the bush.

"The idea of 'breaking the eight' is funny because the NPP knows very well that Ghanaian voters are patient for every government in its first term. They lose trust and vote against you in the subsequent term," he told Sometymer Otuo Acheampong, host of the show.
Dr. Amakye asserted that the NPP's slogan, "breaking the eight," is a propagandist message cleverly integrated into the policies of the Akufo-Addo government. According to him, even with substantial efforts made between now and 2024, it is highly unlikely that Ghanaians will be swayed to vote for the NPP.

"As usual breaking the eight is one of the propagandist messages Nana Addo brought up, several of them came in the form of policies." He said.

"No magic will happen, it's late, nothing will happen. It doesn't matter who becomes the flagbearer for NPP…. So from now to the 2024 polls, absolutely nothing is going to happen. Even if NPP executives turn angels and work with the country's resources in a miraculous way, they'll still lose the 2024 polls," the KNUST lecturer emphatically stated.