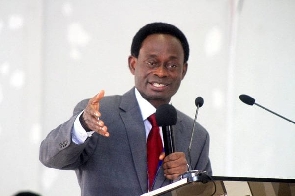 Chairperson of the Board of Trustees for the National Cathedral Apostle Professor Kwadwo Nimfour Opoku Onyinah has defended yet again the need for a National Cathedral insisting that the project will be profitable to the nation and will not be a white elephant as some have intimidated.
In an interview with Nana Akosua Konadu on Hard Truth on Joy News, Apostle Professor Onyinah revealed that the foundation of the National Cathedral Project alone is attracting tourists and that he has personally led groups to the site.

"Recently I met someone who said they didn't understand the National Cathedral but they took their time and listened to one of our presentations on YouTube.

"And then he thought that he had made a mistake. So once you understand it, and know what comes in. You'll know that it will not be there like a white elephant. It wouldn't be like a white elephant.
"And I am even surprised that people who come from outside will still like to go and see the site. I myself I have lead about three groups to see it…So I said even the foundation is attracting people. What about if we're able to finish?" he quizzed.

The construction of the National Cathedral has continued to generate controversy. Some GHC400 million of public funds has so far been sunk into the project even as the controversy rages.