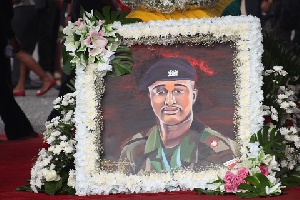 A retired British Soldier, Mr. Kwaku Ntim Twumase has offered to build a monument at Denkyira-Boase in the Upper Denkyira West district of the Central region in honour of slain military officer, Major Maxwell Adam Mahama different from what has been promised by government.
In an exclusive interview with mynewsgh.com the Ghanaian born ex-military man, said it is part of his personal contribution to the state in view of the fact that same circumstance could have befallen him if he served in Ghana.

Kwaku Ntim Twumase who served in the British army for only three years and resigned after he was involved in near fatal accident which has restricted him to a wheelchair, attacked lynching of suspected criminals urging the citizenry to be law abiding.

The physically challenged Chief Executive Officer (CEO) NTK Ventures said "I could have died in the same way when I had an accident resulting in my current situation in this wheelchair. So I will take it upon myself to honour the late Major with the monument"

"I will construct a monument in Denkyira-Boase specifically where he was gruesomely murdered so that the people there will learn lessons from their barbaric behavior of lynching innocent people" he explained.

President Akufo-Addo had earlier announced plans by the government and the military high command to construct one in honour of the late army major in a yet to decided place.

Expressing his condolences to the bereaved family, Mr. Kwaku Twumasi Ankrah lauded government for setting up an endowment fund for the family urging individuals to support what he termed as a worthy course.
Meanwhile, the family of the deceased want the Tema Roundabout on the Accra-Tema Motorway be named after the slain major.