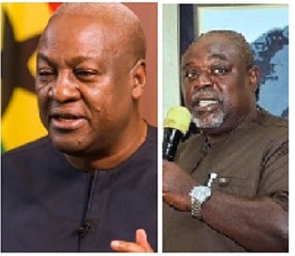 Samuel Koku Anyidoho, a former Deputy General Secretary of the National Democratic Congress (NDC), has raised thoughts about the promise of former President John Dramani Mahama to scrap ex-gratia benefits when he comes back to power again.
According to him, the former president cannot be trusted because he had the opportunity to scrap ex-gratia when he was president but he did not.

He added that Mahama failed to implement a Constitutional Review Commission (CRC) White Paper on emoluments of Article 71 holders, left behind by the late former President, John Evans Atta Mills, which could have solved this problem of ex-gratia.

"As the Founder and CEO of the Atta-Mills Institute, I have consistently said that we must implement the White Paper of the Constitution Review Commission (CRC) that was set up by President Atta-Mills. Is it not a shame that, someone ignored the White Paper, & is now insulting?

"I don't trust John Mahama if he says he will scrap ex-gratia. Why did he not implement the CRC White Paper on Emoluments? I am prepared to debate John Dramani Mahama on how he betrayed President Atta-Mills. I don't trust him and will never trust him," Anyidoho wrote in a series of tweets shared on Monday, March 6, 2023.

Promise to end ex-gratia and run a lean government:
Former President John Dramani Mahama has promised to scrap the retirement benefit given to the Executive under Article 71 officeholders, known as ex-gratia when he becomes president again.

According to him, his government will start the constitutional processes to scrap ex-gratia in the first year of his administration.

The former president, who made these remarks at the launch of his campaign to become the flagbearer of the NDC on Thursday, added that his government would also work to scrap ex-gratia benefits given to appointees under the other arms of government.

"The payment of ex-gratia to members of the executive under Article 71 will be scrapped. And the necessary constitutional steps to abolish that payment will start in earnest in 2025.

"We will also begin the process of persuading the other arms of government other than the executive to accept the removal of this ex-gratia payment," he said.
Mahama's promise to cancel ex-gratia has largely been received by members of the public, his biggest critics including members of the ruling New Patriotic Party have questioned his integrity and motive for making such a promise.

Some of his critics have thus dared the former president to return all emoluments he has received over the years as proof of his commitment to his promise to scrap ex-gratia.

View Koku Anyidoho's tweets below:


As the, Founder and CEO of the Atta-Mills Institute, I have consistently said that we must implement the White Paper of the Constitution Review Commission (CRC) that was set up by President Atta-Mills. Is it not a shame that, someone ignored the White Paper, & is now insulting? pic.twitter.com/nr3aZVxdKy

— Samuel Koku Anyidoho???????? (@KokuAnyidoho) March 6, 2023
I don't trust John Mahama if he says he will scrap ex-gratia. Why did he not implement the CRC White Paper on, Emoluments? I am prepared to debate John Dramani Mahama on how he betrayed President Atta-Mills. I don't trust him and will never trust him.

— Samuel Koku Anyidoho???????? (@KokuAnyidoho) March 6, 2023
Meanwhile, catch the latest GhanaWeb TV Election Desk interview with Francis Addai-Nimoh, as he discusses his plans to become the NPP's flagbearer, below:





IB/WA