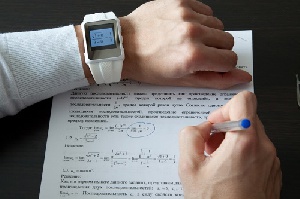 The West African Examination Council (WAEC) says even though it has initiated moves to discourage examination malpractices, students seem to be finding advanced ways of cheating.
One of the latest trends according to the WAEC is the use of smart watches.

WAEC believes these watches are used by the candidates to transmit information on the exams and receive necessary external help.

This was revealed by the Council at an Educational Seminar for the media in Accra.

Acting Head, Test Development Division, C.K. Osafo, says WAEC needs the collaboration of various stakeholders to curb the situation.
4.8 percent of candidates who partook in the 2017 West African Senior Secondary Certificate Examination were found to have engaged in examination malpractice.

C.K. Osafo assured that the Council was stepping up its efforts to arrest the canker.

One of the measures the Council is considering is the installation of CCTV cameras at the various centers.

He also disclosed that the Council has started employing modern techniques in its assessment and also reviewing the WAEC law to mete out stiffer punishments to offenders.