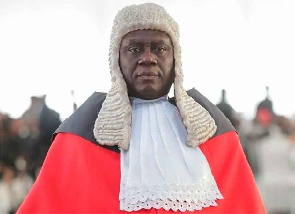 Outgoing Chief Justice, Kwasi Anin-Yeboah brought honour to the judiciary during his term of office, President Nana Akufo-Addo has said.
At a farewell dinner for the CJ organised by the Ghana Bar Association, President Akufo-Addo said: "Chief Justice Anin-Yeboah has been an exceptional leader to the judiciary."

"He has guarded jealously the judiciary and his conduct has brought honour to the judiciary and to our country," the president noted.

According to Akufo-Addo, "not only has he continued with the modernisation of activities of the judiciary, but his tenure of office has also seen arguably the largest infrastructural development undertaken in the history of the judiciary."

Mr Anin-Yeboah, at the dinner, said: "I'm really grateful to the president and the GBA for supporting me all this while."

"I really appreciate it," he said.
He officially retires on May 24, 2023, when he turns 70 years old.

Justice Anin-Yeboah would be replaced by Gertrude Torkornoo if she passes her vetting.

She was nominated in April this year by the president.

If successful, she would become the third female chief justice after Theodora Woode and Sophia Akuffo.