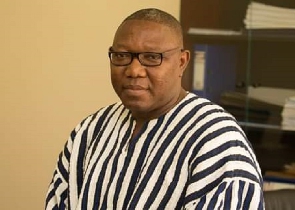 The Member of Parliament for Builsa South, Dr. Clement Apaak, has said Ghana's current economic challenges can be attributed to what he described bare face corruption and excessive borrowing
According to him, the modus operandi of the government so far are clear indication that the government has no regard for the citizens.

"Because first of all as I said earlier, excessive borrowing, bare face corruption, mismanagement, as far as we are concerned are the principal reasons why the economy is in shambles. Covid-19 actually brought this government resources that this government could never have dreamed of having access to," he said.

"When you mobilize over 21 billion and you use just about 11 billion and you have a surplus of 10 billion. The same year 2020 government revenue (GRA) was 45 billion so there were a lot of resources. How can you blame COVID for being where we are? COVID has given you a lot more resources than you could even anticipate," Clement Apaak stated.

He continued "You didn't even use all of it, you had a surplus then you turn around and blame the pandemic that gave you an extra 10 billion for being the reason why we are where we are. So you see that argument that we have always made that COVID didn't contribute to where we are and as for the Russian-Ukraine war the less said about that the better."
The Builsa South MP further stated that the nation is where it is now based on the fact that the government has refused to listen to good counsel.

"We have always been mentioning, bring all the best brains to the table as his Excellency John Dramani Mahama admonished, they didn't listen," Mr. Apaak reiterated.

The lawmaker stated that the government swore that they will never go to the IMF by pronouncing figures.

"Finally you go to the IMF in an ambulance. And then even if you are going to the IMF you didn't go to the IMF with a plan. This government did not go to the IMF with a pan, they had none," he added.