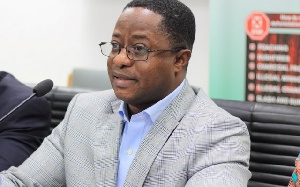 Despite projections by government to inject about GHc206 million into the premix fuel sector in 2019, a total of only GHc134.6 million had been spent as at the beginning of the last quarter of this year.
Government has between 2017 and May 2019 spent GHc373.9 million to cushion fishermen with a total of GHc137.5 million spent in 2017 and GHc160.8 million in 2018.

The challenges of premix fuel distribution remain a major bottleneck which continuously confronts the industry players and the country as a whole, government has admitted.

Speaking at a commissioning ceremony of six prototype premix retail outlets for six landing beaches across the country, Energy Minister, John Peter Amewu said, "premix fuel distribution has really been a challenging one because of the subsidies on the product, and whenever there are subsidies, the distribution of the product tends to create rent, and when it creates rent all sorts of people come in the middle"

Others, the Minister explained, tend to hoard the product and later sell it at exorbitant prices to fisher folks or use it to adulterate gasoline as a result of the significant price differentials between these products due to subsidies.

He however said, the Energy Ministry would continue to give policy directions to the National Petroleum Authority (NPA), National Premix Secretariat and the Fisheries Ministry to ensure protection is given to the businesses of genuine players in the industry, and to expose fraud within the premix fuel distribution and consumption chain.

NPA's CEO, Mr Alhassan Tampuli, said that menaces such as diversion and hoarding associated with premix fuel distribution has seen significant improvement.
Data from the NPA indicates that premix fuel consumption in 2018 reduced to 73, 548,00 litres, this being 20 percent less than the level in 2017 (91,692,000.00 litres).

The drastic reduction, the Authority asserted, is attributable to programmes and policies rolled out in collaboration with thee National Premix Fuel Secretariat to monitor the distribution of premix fuel to ensure that the subsidized premix fuel actually gets to fisher folks.

The programmes include; the installation of tracking devices on bulk road vehicles (BRVs) which enable the NPA to monitor the movement of BRVs from the depots to the delivery points as well as the marking of petroleum products with a bio-marker which gives each consignment a unique identity, among others.

The six model outlets are located at Winneba, Komenda, Apam Manford, Djameni in the Volta region, James Town and Shamaa Adjoa in the Western region.

The facilities, whose development commenced in 2015 out of collaboration between NPA and GOIL are meant to provide safe and decent retail outlets aimed at eliminating the safety risk posed by the makeshift premix retail outlets along all the landing beaches across the country.