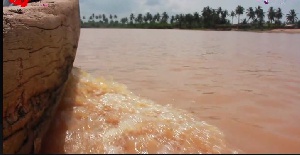 Sat, 6 May 2017 Source: Xinhua
Experts at a national forum here on Thursday urged proper regulations and support for small-scale mining in Ghana to reduce its effects on the environment.
Director for the Water Research Institute of the Council for Scientific and Industrial Research (CSRI), Professor Osmund Duodu Ansa-Asare, noted that the reduction rate in the quality of water in some key water bodies was alarming hence the need for these regulations.

"Rivers in the southwestern river systems were in Class II in the year 2010 which is an indication of fairly good quality. However, the waters deteriorated to Class III from 2013 to 2015 and this was attributed mainly to Galamsey (illegal mining) activities," Ansa-Asare noted.

He added that there were traces of cadmium, lead, mercury, arsenic, chromium and antimony found in the waters polluted by illegal mining in the country, urging government to take appropriate steps to bring the illegal miners under the regulatory umbrella and prevent the negative effects of their trade.
It is recommended that steps should be taken to legalize Galamsey so that it can be monitored to ensure sustainability of our environmental resources. There should be a comprehensive River Basin Systems long-term monitoring for effective management of our water bodies. CSIR has the technologies to mitigate some of these negative environmental effects," he added.

The forum, organized by state-owned Daily Graphic, Ghana's largest circulating newspaper, was also sponsored by the CSIR and International Association of Impact Assessment to deepen public opposition to illegal mining in the country.
Source: Xinhua