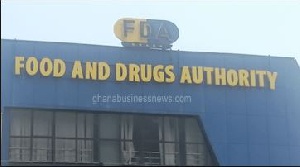 The Food and Drugs Authority (FDA) in the Ashanti region says it has confiscated over 4,000 tablets of controlled prescription only medicine from 21 chemical shops in the Ashanti region.
The confiscated drugs, according to the FDA Regional Head, Nora Terlabie, included unapproved doses of Tramadol that had been stocked in some of the shops.

Nora Terlabie told TV3, Thursday, April 12, the owners of the shops have since the confiscation been referred to the Pharmacy Council for further action.

She explained that a recent market surveillance undertaken by the authority in the Ashanti region revealed that 21 out of 50 over-the-counter chemical selling shops were found to have stocked and sold Tramadol in a manner that violated FDA regulations.

She indicated 84 shops were in all covered in the swoop, out of which 34 were pharmacy shops and the rest over-the-counter shops.

Tramadol is a synthetic narcotic analgesic or pain reliever prescribed to patients suffering from moderate to severe pain.

Experts explain that the drug attaches itself to the brain's pain receptors and blocks the sensation of pain.


However, the abuse of the drug is on the rise especially among especially the youth who rely on the product to enhance their sexual drive, prolong ejaculation and enhance performance.

The FDA in the Ashanti region says it has undertaken a number of activities to reduce the harmful effects of abusing Tramadol and continues to partner other state agencies to curb the illegal distribution and sale of the drug.

Nora noted that some Tramadol peddlers were last year arrested and are currently undergoing investigations.

Meanwhile, Head of Public Affairs at the Food and Drugs Authority, James Lartey, says it will take conscious education and law enforcement to clamp down on the abuse of Tramadol.

He stated on TV3 News360 the FDA is on the education and enforcement spree in addition to swoops to help contain the situation. He added that they will continue to arrest offenders so that others will be deterred from the act.